Reminder: Mums pick up is today September 22 until 5 pm at Lower Ross park. All mums must be picked up today. Please call 513-298-2920 with any questions.

If you placed an order for mums, they are ready at Lower Ross Park! Volunteers are ready and waiting for you to pick them up today from 1:00pm-5:00pm.
MUM PICK UP IS TOMORROW 9/22/23!!!! AT LOWER ROSS PARK in St. Bernard FROM 1pm to 5PM. We are going to begin creating orders at 10am. Once we are finished, we will send out a mass message to everyone that your orders are ready. All MUMS have to be picked up tomorrow. Thanks again to everyone that has volunteered to help with orders tomorrow and all students that participated in this fundraiser! If anyone has any questions, please call me at 513-289-2920-Thanks Mindy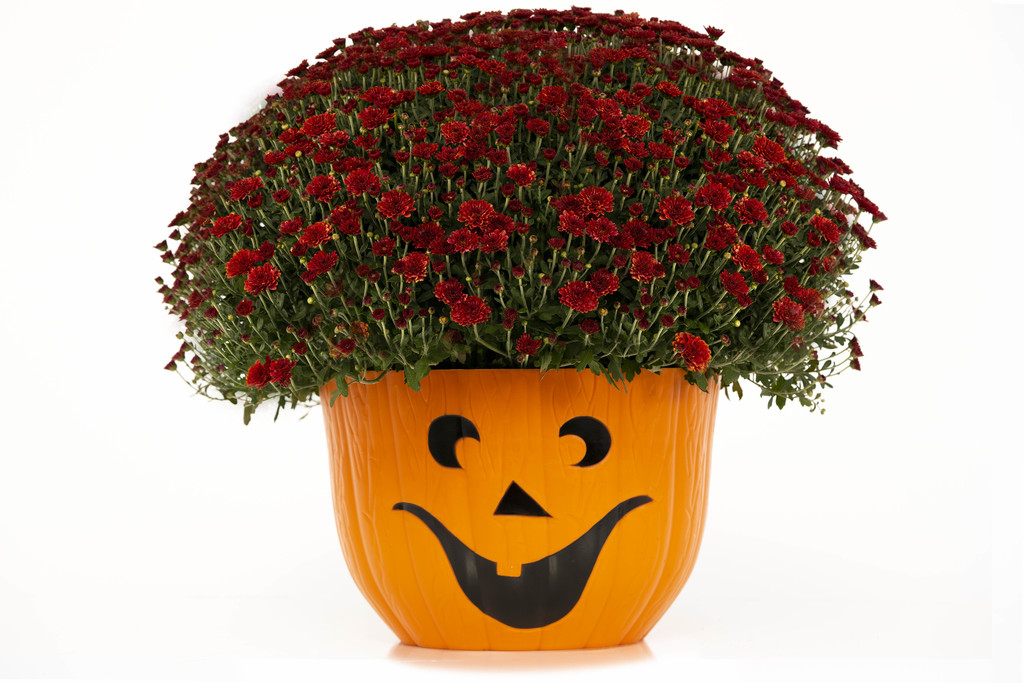 Please join our St. Bernard safety team for the 2023 Safety Day this Saturday, September 23rd. See the flyer below for more details!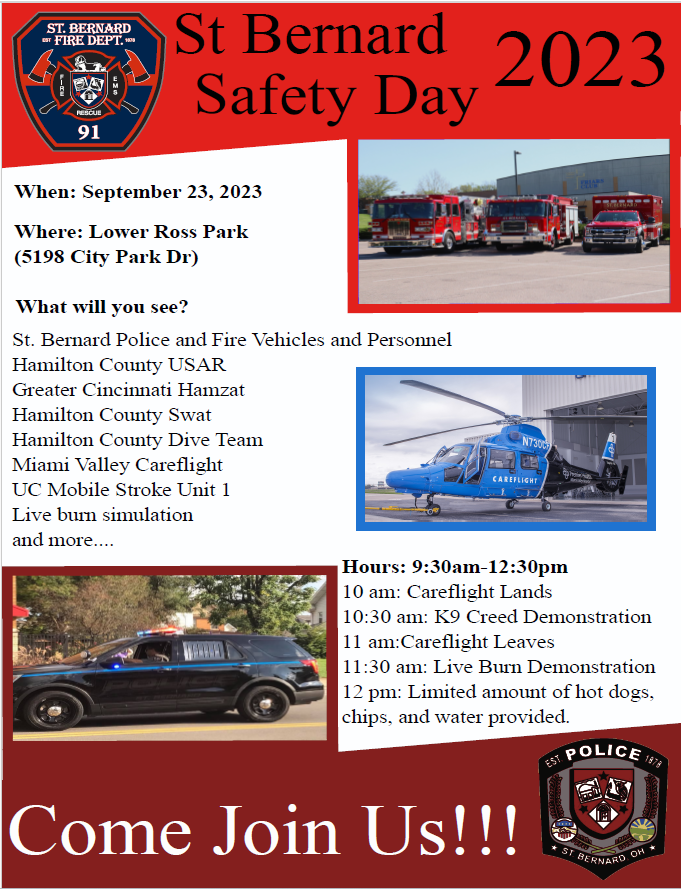 8th Grade Parents are reminded to attend tonight's informational meeting about high school. The presentation in English begins at 6:30pm and the presentation in Spanish begins at 7:30pm in the St. Clement Library. Information presented will be the admissions process for the private and parochial high schools.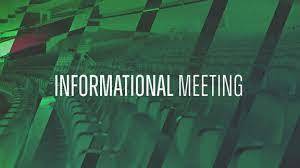 Good Morning, We are still in need of people to help get the mum orders prepared this Friday September 22nd. Even if you only have an hour, you can spare it would be most helpful! If you are able to sign up, add a comment with the hour(s) you are able to help. Link below! Thanks in advance!!
https://www.signupgenius.com/go/60B0E4CA4A629AAF49-44365073-mumdelivery

Aarrrgh Mateys, tomorrow be National Talk Like a Pirate Day! Students can dress in appropriate pirate attire. No masks, weapons, hooks, or makeup are allowed but hats, eye patches, pirate clothing, etc are permitted. Students not dressing as pirates should be in uniform. There is no donation required!
Happy Friday!!!!! Exciting News about MUMS. St. Clement School sold a total of 454 MUMS!!!!! Our Top seller is Ms. Lucy Wuebold who will receive a $50 Visa! Lucy was able to sell a total of 26 MUMS!!! Way to go!! The top selling class was our 7th grade students who sold a total of 82 MUMS. The 7th graders will receive a pizza party. We have a total of 42 students that sold at least 5 MUMS each that will be receiving a dress down pass. We have 15 lucky students that get to silly string Mrs. Brainard because they each sold at least 11 MUMS! Lastly, pick up is still set for next Friday, September 22nd from 1pm to 5pm at LOWER Ross Park (5198 City Park Dr, 45217) We are going to start processing orders at 10am next Friday. Once we have everything ready, we will send out a mass message so people can come earlier than the scheduled time if available. Parents/Grandparents/Friends of Family we need your help to get these orders ready. Below is a sign-up sheet. If you could help, we would love to have you! For any 5th grade parents that have not been able to help volunteer yet to cover their students' camp cost you can help with this event if possible.
https://www.signupgenius.com/go/60B0E4CA4A629AAF49-44365073-mumdelivery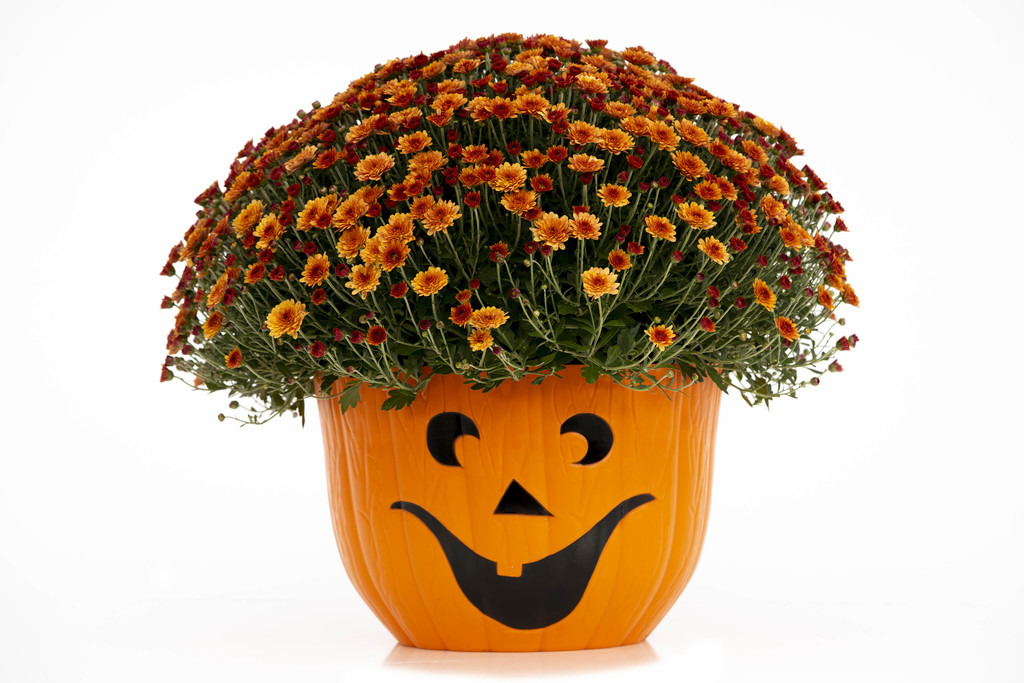 A reminder that tomorrow, Friday, September 15th is our first Dress Down to Donate for Revival, Jamaica! For a $1 (or more) donation, students can wear Bengals gear or orange and/or black tomorrow. St. Clement is teaming up with St. Francis Seraph, Roger Bacon and Corryville Catholic in this event!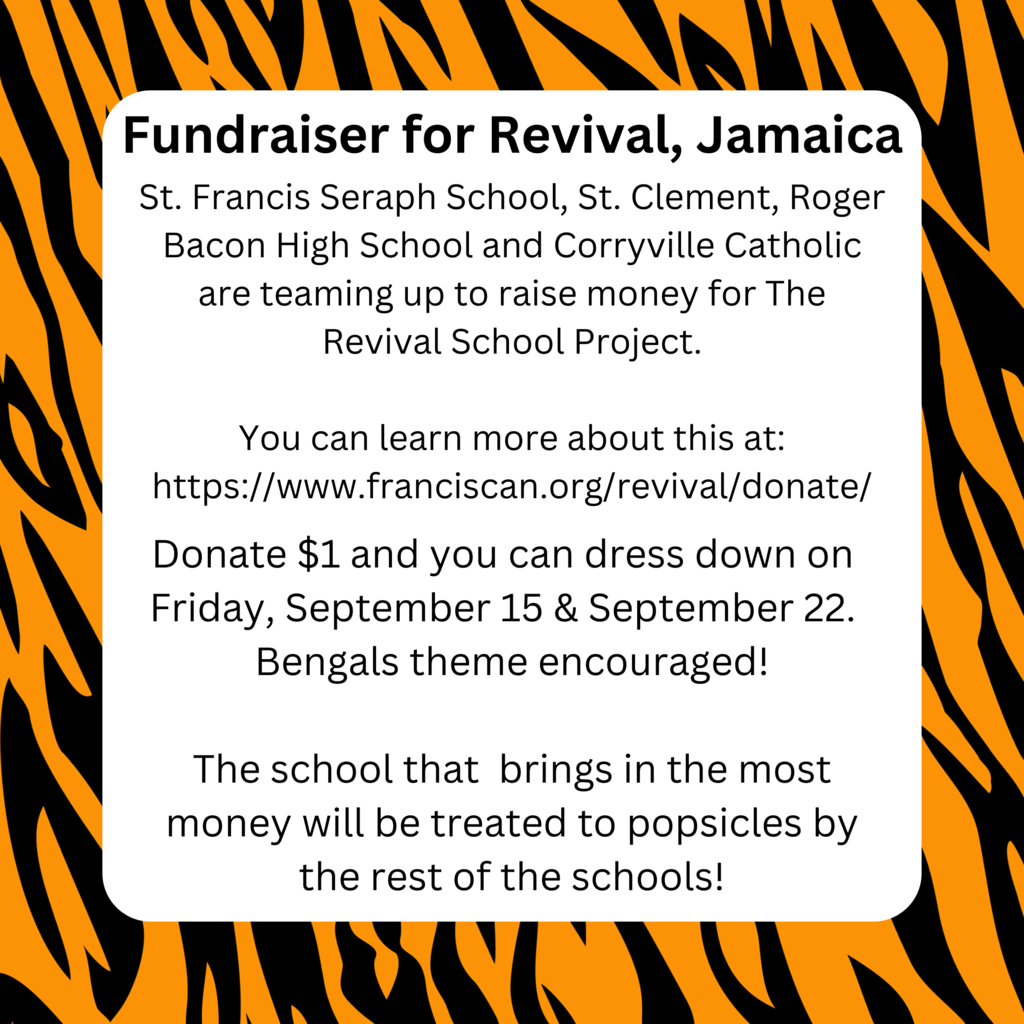 Tonight @ 7pm in the St. Clement School Library is our first Teacher Parent Club meeting for the new school year. Lots of exciting stuff going on. If you would like to attend in person, please enter thru the side door located in the breezeway along the side of school (where the old cafeteria used to be, now the library) This meeting will last approximately 1 hour. If you would like to attend online, please use the link below! We are accepting new board members. If you are interested in taking a board position, please attend. We will be voting in new members tonight. Attending the meeting DOES NOT require you to take on a board position. You can join just to see what's going on. If you can offer time here and there to help us with events/activities that would be great. No Pressure!!! TPC Meeting Tuesday, September 12th 2023 7pm Tuesday, September 12 · 7:00 – 8:00pm Time zone: America/New_York Google Meet joining info Video call link:
https://meet.google.com/kzy-yynw-hsu
The MUM sale ends this Wednesday, September 13th, 2023!!!!!! ALL money and forms have to be turned in BY THIS WEDNESDAY! Please push for those final orders!! Students that sell at least 11 items will get the opportunity to SILLY STRING Mrs. Brainard. We will post more information about the MUM pickup and volunteer opportunities to help with the sorting this Thursday! Thanks again to everyone that is helping to support this fundraiser.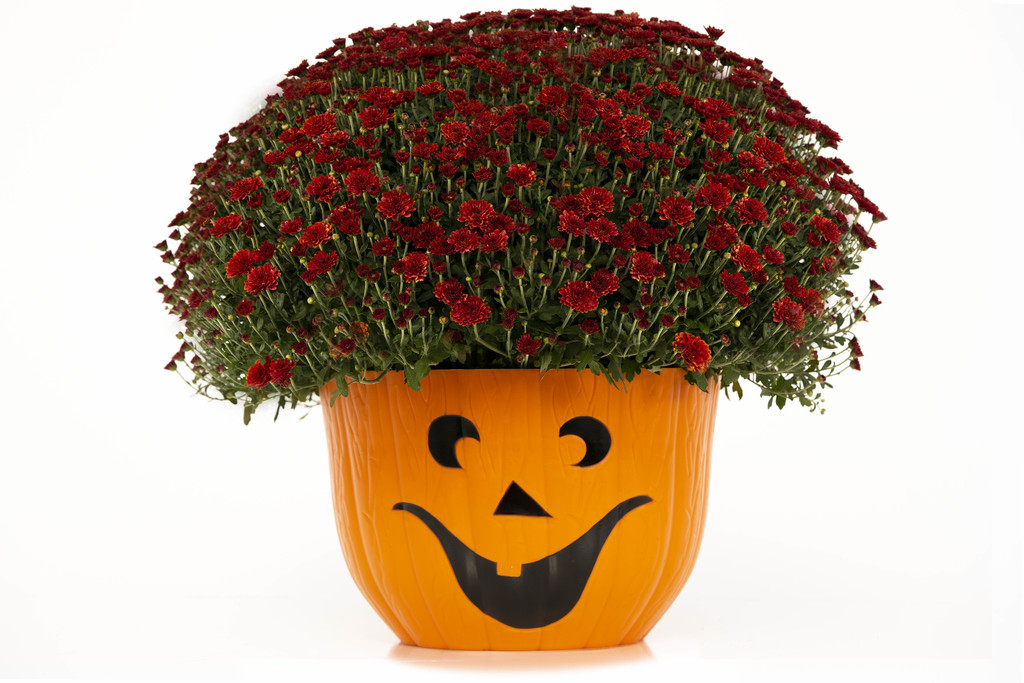 Our 8th grade students will be out of uniform tomorrow as they help with set up of the festival. All other students are in spirit wear and uniform bottoms.

Tomorrow is Friday which means students may wear St. Clement spiritwear tops (shirts, hoodies, sweaters) with their uniform bottoms. St. Clement spiritwear is the ONLY approved item students may wear, otherwise they will need to come in full uniform. Happy Friday eve!

BAND IS BACK at St. Clement! We are thrilled to partner with the Music Staff to provide the opportunity for our fourth and fifth grade students to join the Beginning Band! See your email for more information!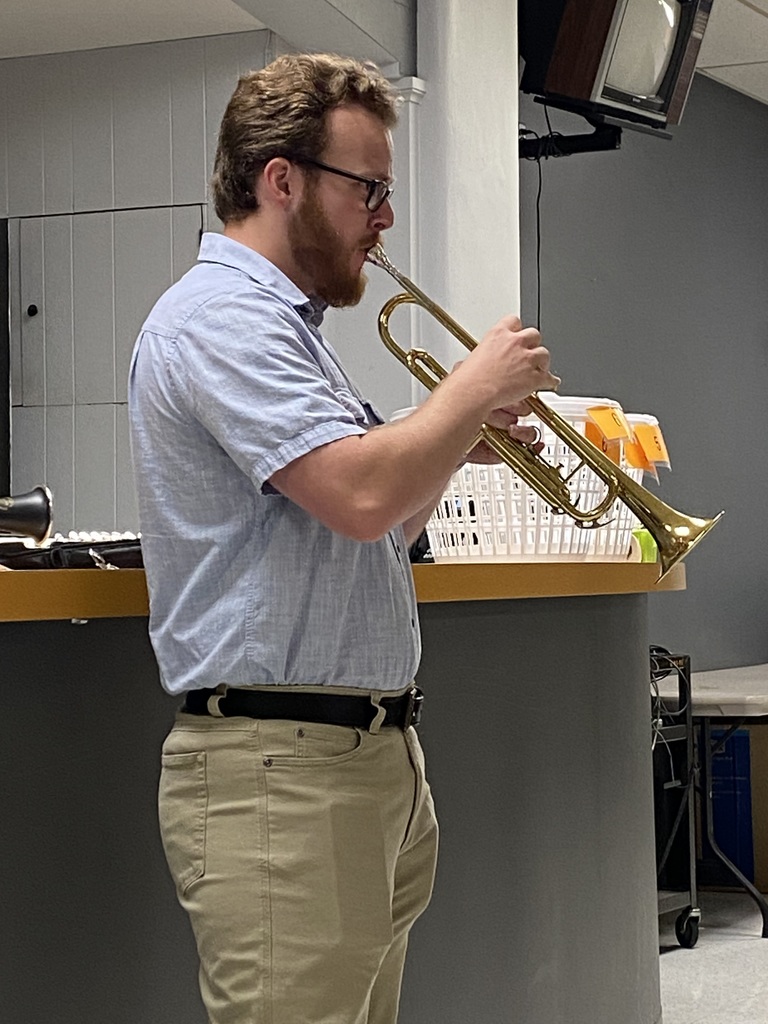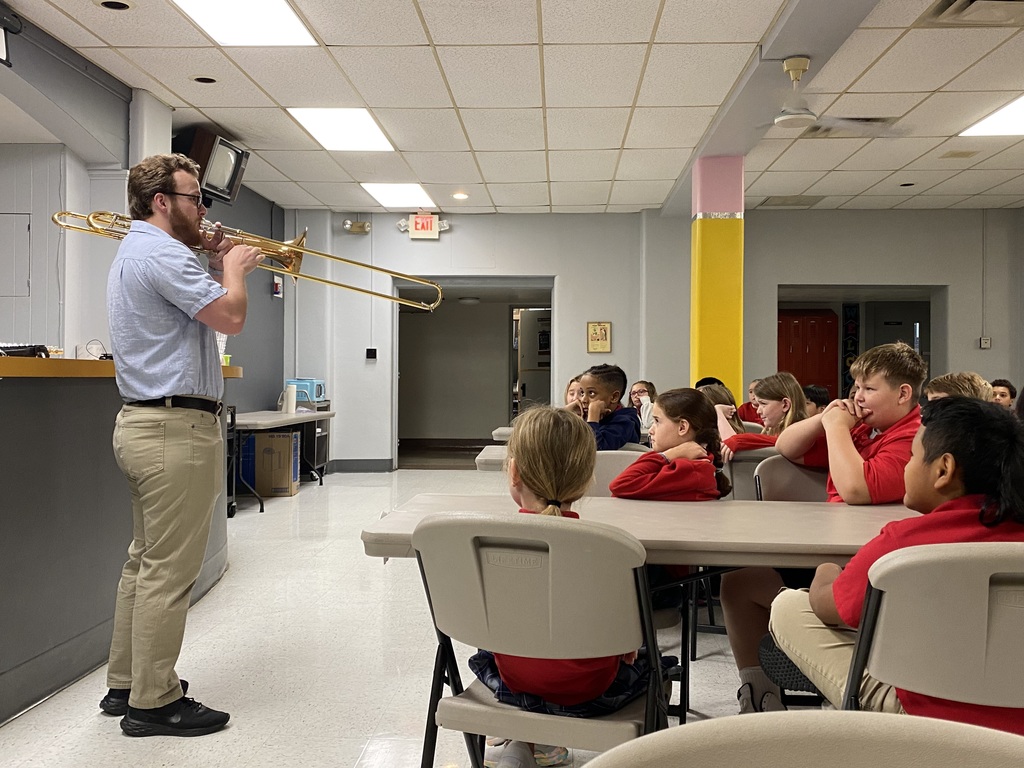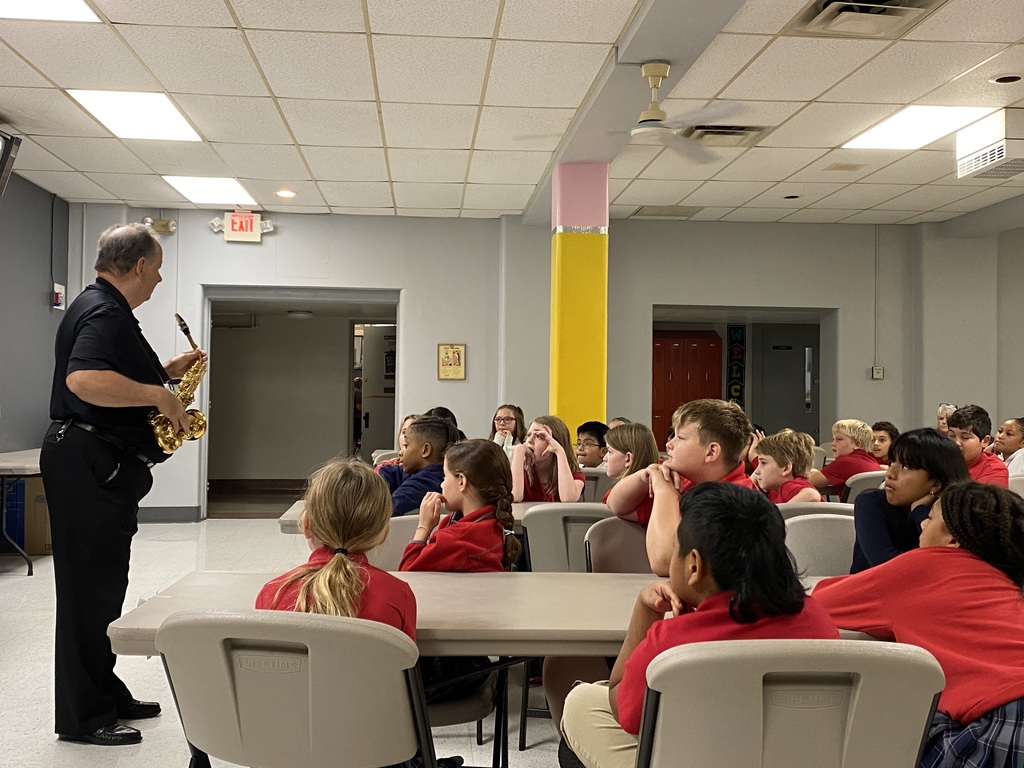 The NEW St. Clement School Spirit Wear Apparel Shop is now open! Find items that are picked out specifically for St. Clement. There is also spirit wear available for your family and friends. SHOP DETAILS - Shop Now:
https://bsnteamsports.com/shop/StClemnt23
- Store Open From: September 7 - September 25, 2023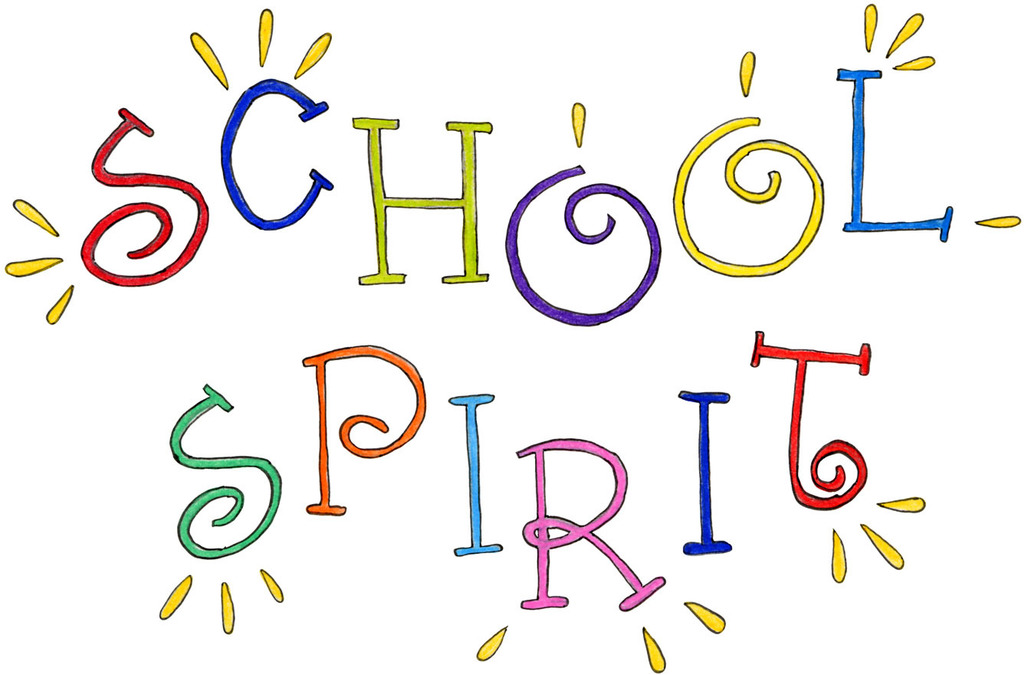 Thank you to everyone that has already sent in their items for the St. Clement Parish festival raffle baskets!!!! Tomorrow is the deadline to drop off items. If you have not already done so, please send in your raffle basket contributions with your student(s) tomorrow. I have attached the class themes again for reference. -Thanks again!!!!!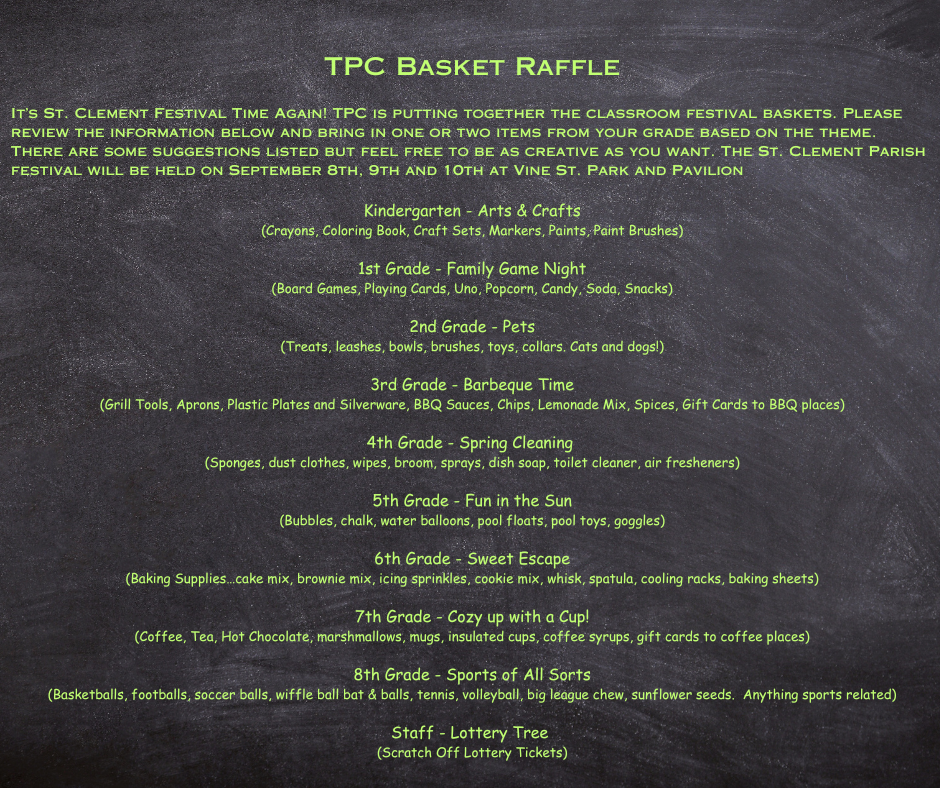 Good morning. We are experiencing issues with the phone and intercom systems today. If you come to school today, we will open the door but have to do so manually so please be patient.
Attention 5th grade parents!!! Many spots are still needed to be filled for the St. Clement Festival Basket booth. Remember that TPC will pay for your childs Camp Campbell-Gaurd trip if you work a shift. Please sign up at the link below:
https://www.signupgenius.com/go/409044BA9AE23A5FB6-20231
Attention 8th Grade Students and their Families! Please sign up to work the St. Clement Parish festival toy booth! It is a St. Clement School tradition that the 8th graders and their families give back to the parish by working this booth at the St. Clement Parish Festival. Game participants will redeem their tickets for prizes at this booth! Light up toys are also sold at this booth, so an adult must be in the booth at all times to collect money.  This booth will run Saturday, September 9th thru Sunday, September 10th! Please review the available slots below and click on the button to sign up. Thank you!
https://www.signupgenius.com/go/60B0E4CA4A629AAF49-8thgrade1
Good Morning!! Everyone should have received their MUMKIN Sale information!!! The last day to turn in money and forms is Wednesday, September 13th! Everyone has the option to purchase their MUMKINS online. Instructions were sent home in the sale packet. Once you have completed your sales, please forward your money and order forms back to school. Don't forget to check out the prizes! We are excited to bring this fundraiser back to St. Clements.